*Fine lines *Sun damage *Blemishes *Dry, dull skin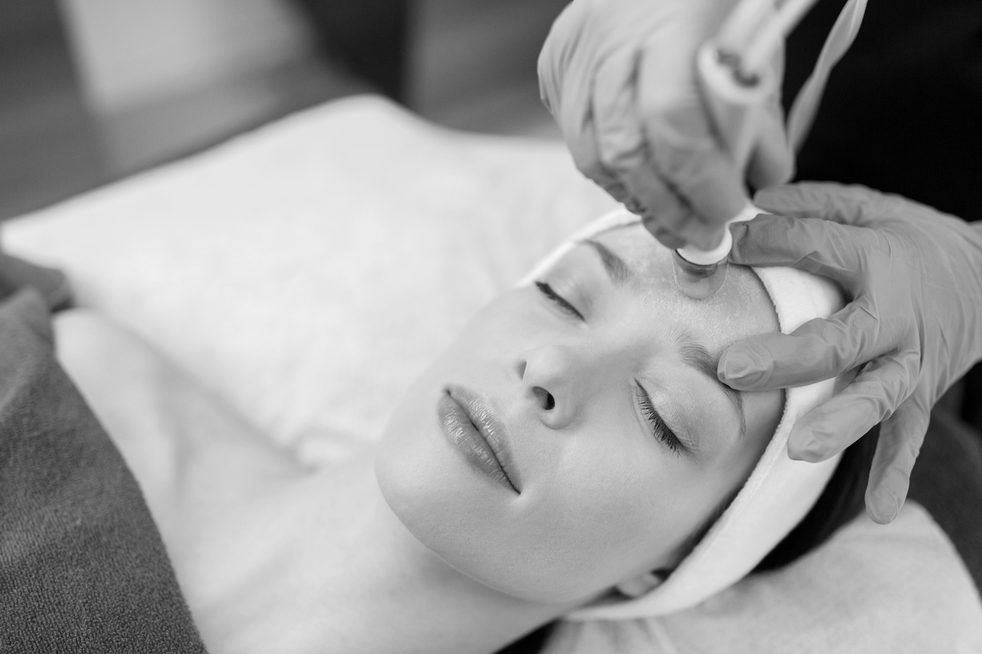 Microdermabrasion is a popular, non-invasive and painless aesthetic procedure that will give you a fresh face and glowing skin with zero downtime.
---
Microdermabrasion Frequently Asked Questions
Microdermabrasion is commonly used for the following:
Dry, dull, and dehydrated skin

Uneven skin tone

Blemishes, age spots, and hyperpigmentation

Acne and acne scars

Fine lines and wrinkles

Stretch marks

Large pores and blackheads

Sun damage

Melasma

Brown spots
Microdermabrasion uses sterilised crystals that are vacuumed across your skin's surface to exfoliate the outer layers of skin.  The deeper layers are revealed, showing a softer, smoother, more even-toned complexion. The abrasion and vacuuming also stimulates collagen production, thickening the deeper layers and creating resistance to aging.
Acne and acne scars can be reduced by exfoliating the skin and clearing clogged pores of oil and dirt.  The crystals polish and remove skin cells that can aggravate acne. However, deep acne scars (pock marks or ice-pick acne scars) may require a more intensive treatment like laser or a chemical peel. 
Microdermabrasion can decrease redness associated with rosacea, that is caused by chronic inflammation and prominent blood vessels.  A consultation is required prior to treatment for rosacea to determine whether or not you are a good candidate, or if you would do better with laser treatment.  
The following patients should consider waiting before they schedule their next microdermabrasion appointment:
Patients with open wounds 

Patients with undiagnosed lesions

Patients with warts or active acne

Patients with a recent herpes outbreak

Patients who have deep scars

Patients with active keloids

Patients who had a recent chemical peel

Patients who had recent collagen injections

Patients who very recently waxed or tanned in the treatment area
Based on your skin condition, skin tolerance, and desired results, you might get a weekly treatment for 4 weeks and then schedule a monthly treatment to maintain the results.
No.  You may resume normal activities immediately.  Your skin might be slightly pink, like having a windburn, and could be mildly tender.  It will be necessary to wear sunscreen, moisturizer, and avoid makeup for a few days.  
The cost of treatment depends on the size of the area that will be treated and the number of treatments required.  One treatment starts at $125. 
---