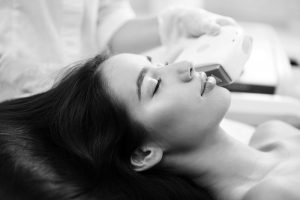 Tired of constantly shaving and waxing unwanted facial and body hair? Shaving, plucking, tweezing, waxing—all are temporary fixes for unwanted hair. With our laser hair removal treatments, you can quickly and easily reduce unwanted hair on your body or face with longer lasting results.
Get the touchable skin you've always wanted. All you need is a few simple treatments to get clear, silky, lasting results. The secret lies in the technology that targets and destroys hair cells responsible for hair growth, without harming the surrounding skin. The treatment is fast, easy, and practically pain free.
Patients can expect to see 15-20% less hair growth/density with each treatment. Therefore, 90% or more hair removal can be achieved with a recommended series of 6 treatments in most areas. The hair follicles that are destroyed are meant to permanently stay that way, but over time new hair follicles may develop due to hormone changes, medications and other factors.
The final result is nevertheless a significant reduction of unwanted hair growth. Imagine a smooth bikini line and legs – no ingrown hairs and silky smooth skin all the time! And for the gentlemen, no shaving your back, chest or abdomen! Call us to set up a consultation and find out more.
Remember, if you are coming in for a treatment, shave the area the night before or that morning and avoid any self-tanners or bronzing cream for at least a week. Stop active tanning for at least 2 weeks. Avoid plucking or tweezing the area for at least 2 weeks prior to treatment.
During your consultation, Dr. Patel will make recommendations based on your desired comfort level, pain tolerance, and available downtime. There are treatment plans to fit everyone's lifestyle.
Nitrous-Oxide available upon request.
LASER HAIR REMOVAL FREQUENTLY ASKED QUESTIONS