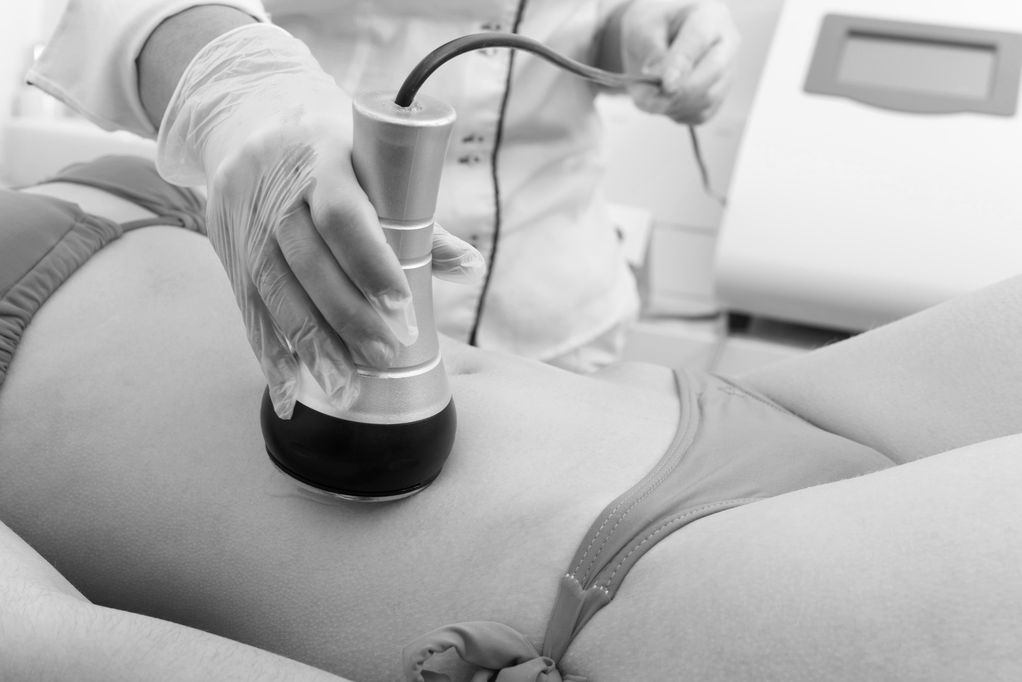 Is Ultrasonic cavitation and radiofrequency right for you?
Body sculpting is a method of reshaping your body by tightening loose skin and attacking stubborn fat that just won't go away no matter how much you diet or exercise.  It's also the perfect solution to address that unwanted cellulite. At Iconic, Dr. Patel can use a minimally invasive treatment to get you looking curvier and sexier with minimal effort.
RADIOFREQUENCY FREQUENTLY ASKED QUESTIONS
This is an amazing combination of technologies that will simultaneously melt fat and tighten loose skin.  The science is pretty simple.  
One energy is directed at stubborn fat cells, melting them into liquid, which is then absorbed and processed by your body's own filtration system. 

The other energy is directed at the dermis, to heat and non-surgically tighten loose or sagging skin.  
Dr. Patel can use the energies alone or in combination.  The latest machines allow her to adjust and direct the treatments for each individual patient, making them very safe and effective.  
The handpiece emits low-level ultrasonic waves of impulses that travel at very high speeds, creating millions of micro-bubbles that will enlarge, collide, implode, and produce shock waves of "cavitation" and elimination of fat tissue.  The body's filtration system will eliminate the liquid from there, naturally or with the help of lymphatic drainage.  
Radiofrequency reaches the dermis, heating that layer without burning the skin surface.  
Heat  causes local collagen fibers to contract and immediately tighten the skin.  

Heat stimulates new collagen production, which will be visible 3-6 months later for continued results. 

Heat improves circulation, allowing for greater oxygen supply and clearance of toxins. Both are key in reducing further signs of aging.  
This treatment is appropriate for tightening loose skin, lifting sagging skin (anti-aging) and for reducing cellulite and fat.  Treatment areas include:
Face

Double chin

Under arms

Abdomen

Buttocks

Thighs

Waist

Love handles
This treatment is generally safe for most patients except the following:
Pregnant women

Breastfeeding women

Cardiac and vascular disease patients

Patients with pacemakers
No.  There is no pain with this treatment.  The handpiece does warm up, but it is not too hot during the treatment.  
Ultrasonic cavitation is used for body contouring rather than weight loss. It's especially effective at eliminating stubborn fat that won't go away (like "love handles") even with diet and exercise.  
The effects are similar, in that fat cells are permanently removed, however there is no vascular damage with this treatment.  
Depending on your desired results, we recommend 6-10 treatments for each area at least 5 days apart.  It takes the body 3-5 days to process and eliminate the amount of fat released in a single session.
Skin tightening from Radiofrequency (RF) is immediate. 

Fat will melt immediately during the treatment, and then will be resorbed and flushed by the body in 3-5 days
Collagen stimulation will happen over the course of the 3-6 months post treatment
The cost is dependent on the size of the area, the frequency of treatment, and whether or not you are getting a combination of both treatments or just one. Financing options are available.  We encourage you to schedule a consultation with Dr. Patel so that she can go over your treatment plan based on the results you would like to achieve.